Chief Commercial Officer South America
Acerca de nuestro cliente
Our client is a multinational manufacturing company, leader in its industry.
Radicación del Puesto
Rosario, Santa Fe, Argentina
Aviso Publicado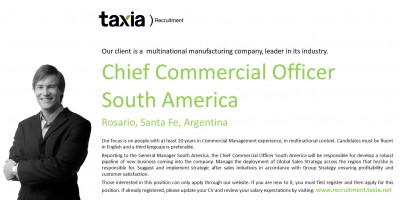 Responsabilidades y Funciones
Reporting to the General Manager South America, the Chief Commercial Officer South America will be responsible for develop a robust pipeline of new business coming into the company. Manage the deployment of Global Sales Strategy across the region that he/she is responsible for. Suggest and implement strategic after sales initiatives in accordance with Group Strategy ensuring profitability and customer satisfaction.
KEY RESPONSIBILITIES:
•He / She is accountable for Sales & After Sales Region P&L
•Support Global Management on the South America strategy evolution in order to boost sales, reinforce the profitability, increase strength customer links with The Company and add new competitive barriers to face competition.
•Give Global Management another informed "voice of the customer" to help take decisions in order to improve the business
•Drive an organization towards the personalized requirements and needs of its customers
•Define annual gross-profit plans by implementing marketing strategies and the sales / after sales target by analysing trends and results
•Define the budget for South America Area in collaboration with the managers of the Region
•Partner with R&D and marketing teams to develop and refine product offerings that meet the needs of the customers
•Implement Group sales / after sales initiatives by developing field sales / after sales action plans and identifying new businesses.
•Assure the general delivery and sales conditions in coordination with the Management and headquarter
•Ensure the interaction of After Sales Team with Consumers Customers/Marketing/Sales/Quality and Suppliers
•Monitor and report of all After Sales KPIs (financials, efficiency , SLA) and ensure compliance with the Health & Safety standards at local level
•Help to define guidelines for customer management and retention, analyze the customer base identifying the specific indicators for the target of reference and guide / identify resulting actions for every target.
•Identify, understand trends within the region to involve stakeholders and deploy effective sales action plans
•Driving a consistent customer experience through an effective sales operations model.
•Manage all commercial contracts concerning the new businesses and supervise execution of existing ones.
•Harmonize the Group guidelines within the whole Regional perimeter to make sure they are in accordance to the local laws, cultures and specificities.
Perfil Requerido
Our focus is on people with at least 10 years in Commercial Management experience, in multinational context. Candidates must be fluent in English and a third lenguaje is preferable.
Those interested in this position can only apply through our website. If you are newto it, you must first register and then apply for this position. If already registered, please update your CV and review your salary expectations by visiting: www.recruitment.taxia.net